The size of the gloves is extremely important, the hands look perfect only in well-fitting gloves.
Accurate and detailed measurement of all the basic lines of the human hand is the basis for a precise and close-fitting cut of the leather gloves. The size of the glove indicates the length of the circumference of the hand over the slightly arched knuckles without the thumb. On the measurement we use a tailor's meter, string, or paper strip, which we wrap around the fist that we release, our supporting hand (right hand, left hand) over the slight arched joints, without thumb (see picture), do not tighten the measurement loosely wrapped. Transfer the measured circumference of the hand to the glove-making inch scale and the subtracted length gives us the primo size, this scale is intended for glove manufacturers. You simply recalculate the measured size by dividing the value by 27 (millimetres).
Example:
measure 19 cm or 190 mm: 2.7 cm or 27 mm = 7,037, by following the table below you will find your size in coulos and it is 7.
For long gloves
to the elbow / above the elbow you need to add the measurement circumference of your wrist, the arm circumference under the lotus and the arm circumference above the elbow see figure 4.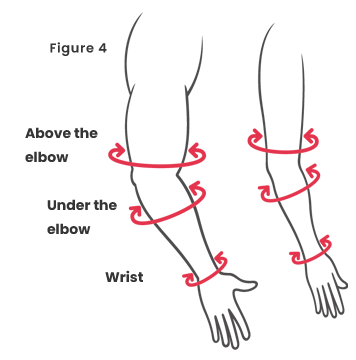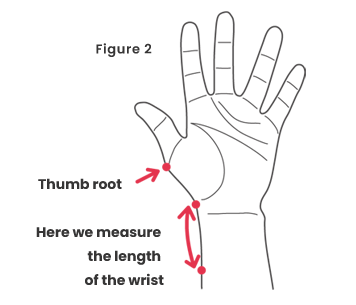 The length of the glove means
The value in cm measured from the root of the thumbscrew to the edge of the glove, when the standard lengths are from 5–7 cm of the wrist length, the shorter wrist length is for driving gloves and longer is at the request of the client or given by the glove model. (here I will draw the picture with my hand and send it).
In glove-making, measurements of the number marking type S, M, L are not used.
Please follow the picture 3
The recalculation of the size of the gloves between the French designation and the size designation in the metric system is given in the following table, according to which you can easily find the desired size of your gloves.
Children's sizes also exist from size 5 (circumference measured 13.5 cm) and 5,5, sending the child's drawn free hand palm towards the paper.
Measurements for slim and long hands/fingersWe are currently dealing with the second measurement of hand size, by changing our hands, slimming them down and lengthening our fingers so-called. French cut. In a common, e-shop on my website is presented the English style typical for our Czech hands and the hands of Central Europe Islands of England, Ireland, etc. If you know that this cut no longer suits you, by meeting the sensation of short fingers when wearing gloves, you will find a solution with me. Please draw your hand (carrier) on paper with your palm facing the paper and, according to the indicated dimensions in the picture, complete the measurements and send the measured hand circumference to my email.